Chasing Truth: Chapter 48
Posted on 12/06/2020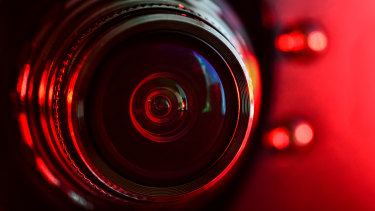 Mari's life was a mess. Her boyfriend was using her to spy on her biological father. Her bodyguard was upset with her. Her surrogate dad was annoyed she kept the truth from him. Her biological father was more than likely wary of her now. Her friends were completely in the dark about everything happening. All of that and she was still no closer to discovering what kind of life Blake led. She blew out a harsh breath as she slouched down on the couch in Raoul's living room. Her phone chimed twice, drawing her attention to the group chat she had with Julia and Leilani.
Leilani's text was first. What r u & Reese up to 2nite? Let's do something fun.
Beach tonight? Or Joe's? Julia's response was immediate.
Mari looked up from her phone when she heard the front door open. Moments later, Reese came into view. The tight line of his jaw wasn't reassuring given he left earlier to check her place for bugs.
"You found something," she guessed while setting her phone to the side.
"Anything sensitive or not public knowledge is only discussed here. That includes any of your conversations with Blake. You'll continue to take calls from him there, but never discuss anything of consequence. You need to keep your conversations normal. Are we clear?"
Mari anxiously thought back on all the things she said at home. What did Tyler know that she hadn't actually told him?
"Mari?" Reese prompted sharply.
"You don't need to snap. I'm not the one who missed the bugs."
She almost missed his wince. His eyes skittered away from her. "I had to work hard to find them, harder than anyone would in a standard check. Tyler is…advanced."
Mari tugged at her ear. She tried to ignore the guilt creeping in. He had missed the bugs, but his clear shame over it made her feel awful for pointing it out. Shame wasn't a look she ever saw on him, wasn't something she thought she would ever associate with him. It made him more human even as it freaked her out about Tyler. How good did he have to be to get bugs past Reese?
"We're clear," she murmured in answer to his earlier question. It wouldn't be hard. She was unlikely to ever forget Tyler was listening in. "I was just trying to think of anything he might know because he had my place bugged."
"Did you come up with anything?"
She hesitated, but she shook her head. "Not that I can think of. I've been pretty careful about saying anything to anyone, but I'll let you know if anything comes to mind."
He nodded. She rubbed at her arms. Knowing Tyler bugged her place left her unsettled. He preached trust to her, yet he didn't trust her enough not to listen in on her conversations. The complete violation of her privacy only made it harder to move past. She squeezed, moving her thoughts from Tyler's underhanded methods.
"Jules and Leilani texted," she told Reese when he said nothing else. "They want to hang out…I need to tell them the truth."
"No."
She blinked at the whip in his voice. "Reese, I grew up with them. They know me. They're going to be able to tell something is off with me."
"If you can't move forward like normal, then we'll call this off now. I'll take you to Blake and we'll figure out the rest."
The firmness of his words left her stunned before frustration started to bubble up. "I'm not saying I can't pretend with Tyler. I'm telling you two women who've known me my whole life will probably get a clue that something is off. If we tell them what's going on, they can help with Tyler."
"Julia has never liked Tyler. Leilani would struggle to keep a secret, let alone act like everything is normal."
"My point exactly! Well, not about Lani. Jules being her skeptical and critical self wouldn't concern Tyler. Neither would her watching him. Lani is friendly and she likes Tyler. He wouldn't think twice about her being around either. They can help."
"This is not a negotiation."
She stared up at him as it dawned on her she didn't really know this man. He joked with her, spent time with her family and friends, and even shared some of his past. She was never in true opposition to him though. She never saw the stone-faced man in front of her now. He was not a man she wanted as an enemy.
"Okay. Telling them the truth isn't an option," she said slowly. "They could be extra eyes on Tyler though. Your focus is on protecting me, which is great. I'm all for that. It just means you can't be as proactive about dealing with Tyler. I could say things feel different lately. I can ask them to pay attention when he's around, see if they notice anything different. If he does anything sketchy, they have a chance of seeing it because they're looking for it. I won't tell them any more than that, just that I'm having second thoughts about him and our relationship."
He stared at her. It took sheer will not to shrink under the force of it.
"You do understand you are not in control of this situation, right?" he asked.
She bit back the bitter response on the tip of her tongue. She lost control of everything when she met Tyler. It was beginning to piss her off. Telling Reese he was just the latest dictator in her out-of-control life wouldn't win her any points with him.
"Yes," she said, "but I'm not wrong. Think about it, Reese."
He sighed, dragging a hand over his head. "You tell them you're having second thoughts about the relationship. They'll ask why. You tell them he's been distant lately and it's making you rethink. That's it. Nothing more. Understood?"
She gritted her teeth. "You don't have to talk to me like I'm a child. I heard you just fine."
"This isn't a game, Marielle. The wrong decision could mean somebody gets hurt or killed. From now on, we'll be on the exact same word of the same sentence on the same page because we can't afford not to be. I'm not going to sugarcoat anything for you."
"Got that loud and clear." She grabbed her phone and rocketed to her feet. "We done?"
"There isn't room for temper tantrums either."
Her nostrils flared as her nails bit into her palm. "Anything else you'd like to dictate while you're at it?"
"You kept the truth from me." The softness of his voice was a warning, sapping some of her ire. "Time has been wasted. I'm still working to get up to speed in a way that doesn't leave your father or you exposed. You already made my job hard. Don't make it harder."
Guilt and frustration were an ugly combination. "I said I was sorry."
"That doesn't change anything about the situation. What I need from you is for you not to work against me or let emotions get the best of you. That won't end well for either of us."
She sucked in a deep breath. "Okay."
"Good. We'll meet the girls at one of their places. I want you in a controlled environment tonight."
"I'll call them now," she said as she rounded the couch to retreat to the patio. She hesitated at the door. "For what it's worth, I really am sorry. I'm not trying to make this hard, but it's new territory for me."
Then before he could respond, she slipped out the door to call her friends.